A Note From Robert B. Sloan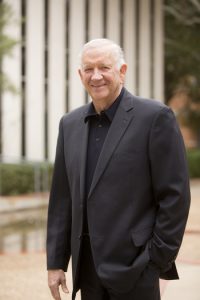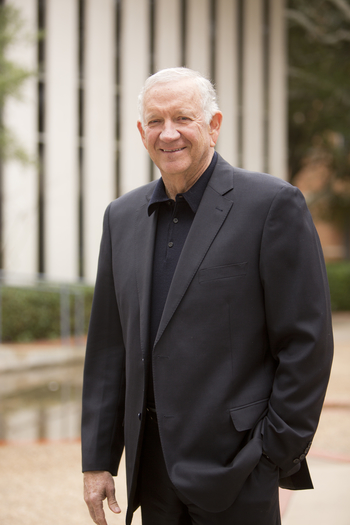 My greatest joy and source of pride is being the husband of Sue, the father of seven children, the father-in-law of seven more amazing young adults, and the grandfather of 24 grandchildren!
All of us enjoy food, conversation and parlor games, and the grandchildren enjoy coloring and writing stories, plus a thousand other things. Our conversations invariably orbit around raising children, work (not the same thing as a job), politics, sports, faith, exercise, music, and books. Plus, there's always time given to crazy ideas about something to do or make, or someplace new to go.
Individually, I'm crazy about popcorn, ice cream, pizza and golf, but today the popcorn is without salt, the pizza is vegetarian and light on cheese, but the ice cream is still homemade. And I long to be a good writer.
Some of the things I've done in life include:
Professor
Minister
Little League Coach
Small Business Owner
Stock Farm Operator
School Board President
Chairman of Board of NYSE company
Writer
Author
Non-fiction—numerous articles and books. Please see resume.
Having spent most of his life in the academic world of theology and administration, Robert Sloan has written numerous articles on New Testament content, and, among many contributions to various articles and volumes, he was a contributor to the New Living Translation of the Bible, I and II Corinthians. His dissertation, The Favorable Year of the Lord, was a text that has often been quoted and also used as a textbook. Though it is out of print now, there are plans to revise and reprint this popular text. A more complete list of contributions may be found in his curriculum vitae.
With many colleagues, Sloan was an author of two highly regarded, visionary documents in higher education. At Baylor University he facilitated Baylor 2012, a visionary plan that mapped the future progress of Baylor, and at Houston Christian University, he, with colleagues, produced The Ten Pillars, another visionary document focused upon the future.  As of 2021, the document, now called the Ten Pillars 2030, was revised and includes the University's Ten Core Convictions.
Communicator
Conference Speaker
Teacher
Lecturer
Higher Education speeches—commencements, special topics
Preacher- Interim Pastor, special events and conferences
Robert Sloan is known as an effective and popular communicator. Years ago, a good friend said of him, rather wryly, that he had 'a way with words'. Though often repeated by Sue – with raised eyebrows!—there is some aptness to the expression. He was a pastor during his years as a student at Baylor University and Princeton Seminary. While they lived in Germany, he and his wife Sue were dorm parents to boys in grades 7-12, and he was asked to be the pastor for the English language church in that area. After finishing his research doctorate in theology at the University of Basel, Switzerland, the Sloans moved back to the USA, and he became the pastor of a church in Roscoe, a small west Texas town. He also taught as an adjunct professor at a nearby university before moving to Fort Worth to teach at a seminary there. He was a popular teacher and preacher. During his time at the seminary, he became an interim pastor to a church in Houston, and over the next 16 years, was an interim pastor at churches throughout Texas, plus one in Oklahoma.
Sloan is also known for his ability to "stand and deliver" on the spot. As a teacher, conference speaker, preacher, and in speeches at universities, conferences, and special events, Sloan has the ability to recall details and make connections in effective and inspiring ways. He can speak about family and raising children as easily as he can talk about the technical details of theology or business operations in higher education. Communication is an important part of his successes.
Educator
Teacher
Researcher
Administrator
Special Lectures
Consulting
Please see resume for more complete listing
Sloan was raised by an educator (and insurance adjustor, CPA) and has been an educator for over forty years. His first teaching position was as an adjunct lecturer at Hardin-Simmons University, followed by full-time teaching at Southwestern Seminary, and Baylor University. For a 15-year period during his days as a full-time teacher, he was the interim pastor at over 25 churches in Texas and Oklahoma. Sloan has been known as a teaching pastor.
At Baylor University, he was a professor of New Testament for 15 years, during which time he was asked by the president to form a seminary. As an incorporator and founding dean of Truett Seminary, he put together the curriculum and faculty. That seminary is now more than 25 years old.
After being named Dean of Truett Seminary, and serving in that capacity for two years, Sloan was elected the 12th President of Baylor University. He served as president for 10 years, plus one year as Baylor's Chancellor before resigning and becoming president of Houston Christian University, where he has now served for 17 years. At HCU, along with colleagues, he wrote the visionary document called The Ten Pillars.
Through the years Sloan has given numerous academic lectures, led marriage and family retreats, and has consulted both nationally and internationally on the development of higher education projects.
Leader
University President
Chairman, Board of Directors for Major NCAA Athletic Conference
School Board President
Pastor
Incorporator and Founding Dean of Seminary
Board Chairman of NYSE Company
Sloan's leadership abilities span a wide range of skills and interests.
When his children were young and in elementary through high school, he became involved in local school activities. He was elected to the school board, and after serving for several years as a trustee, was elected President of the School Board. While his children were in school, he coached both soccer and Little League. He was inducted into the Little League Hall of Excellence along with Cal Ripkin and Len Coleman in 1996 in Williamsport, Pennsylvania.
While he was a professor at Baylor, he was asked by the president to form a seminary. As an incorporator and Founding Dean of Truett Seminary, Sloan designed the curriculum and hired the new faculty.
Two years after being named founding Dean of Truett Seminary, Sloan was elected President of Baylor University. He served as President for ten years and Chancellor for one. While at Baylor, Sloan was selected by his peers in the Big 12 Athletic Conference for a term as chairman of the board, and also convened and was asked to serve as chair of the "Group of Six", a gathering of presidents of the big six athletic conferences.
Following his tenure at Baylor, Sloan was elected as President of Houston Christian University, where he has now served for 17 years. In Higher Education, Sloan is known as a visionary leader who is able to help universities think about what they want to become, and help them move toward those goals.
Beyond education, Sloan has been a proven leader in the community as well. He has always been civically involved, and Houston has not been an exception. Sloan has served on the boards of Houston Christian High School, the Houston Symphony, Greater Houston Partnership, and the Memorial Hermann Hospital Board. He is also a Trustee Emeritus at Baylor College of Medicine. In addition, he has served on the Board of Orphan Outreach in Dallas, Texas.  He has served as chairman of the Board of Citizens, Inc., a NYSE company.
Sloan is a leader, but more importantly, he is a follower of Christ. His faith in Jesus Christ motivates and inspires him to do what he does and to be who he is.